Fire Mountain Jasper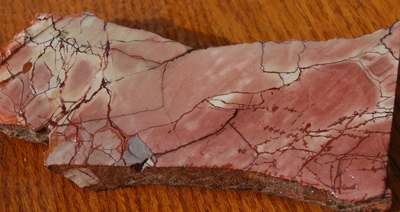 I found a piece of Fire Mountain jasper at a vendor booth in one of the less-visited gem & mineral shows in Quartzite. He had a table with several pieces of what looked a lot like Dead Camel jasper which I have been coveting for quite some time. I bought about a 4 pound piece for 15 bucks and mentioned how it looked like Dead Camel. He replied, "because it comes from the same area in Nevada." I learned that it's a fairly big collecting area, and Dead Camel-like material was possible to find outside the DC claim... at least until the DC claim owner gets his way and lays claim to the whole area.
I'm not sure how I feel about claims like this, and believe they are way too cheap. If a person/entity wants to file for exclusive mineral rights on public lands, they need to have some skin in the game.