Welcome to my website!
This is where I share my rock collection with pictures and stories. I'm also selling some polished rocks, mostly cabochons (cab). My cabs are cut from semi-precious stones that have been slabbed, shaped, ground, sanded, and polished to best display the unique beauty of the rock. Several years ago the Gump feather landed on my shoulder and I started making cabs without reason. I think it was a nice respite from my primary occupation as a computer programmer. My mind can drift to the comforting hum and vibration of the grinding wheel after a long day working my aging brain.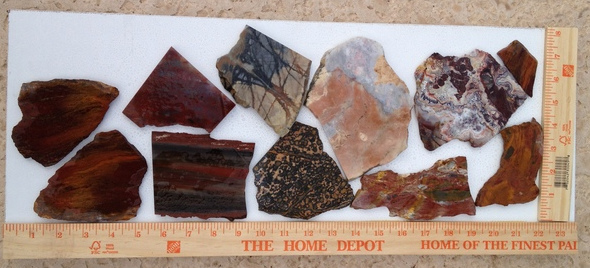 So, what do people do with cabs? Most cab buyers make jewelry by fabricating a setting with precious metal, or wire/bead wrapping has become popular in recent years. Others simply enjoy collecting stones, and a cabochon is an efficient and tidy method for curating a personal rock museum.
While much of my rock collection has been personally collected from areas in the desert southwest region of the United States, I have also acquired interesting rocks from other parts of the country, as well as some that have been mined in other continents and brought to the United States. Regardless of origin, my rock collection is the result of 50 years of collecting interesting rocks and dragging them to my home in Arizona.
Enjoy!